Public Notices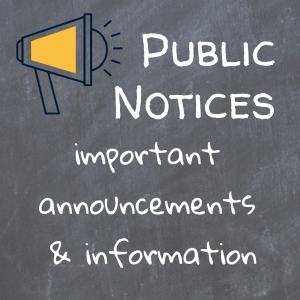 COVID-19 School Updates:
CURRENT PARENT UPDATES:
Update as of 9/14/2020:  We have resumed full-time, on-campus learning for all students. Distance learning will no longer be offered at this time.
Students will remain in "A" or "B" group, with staggered drop-off & pick up times
Mandatory mask policy will remain in place at this time
Student meals will only be provided on-campus and during regularly scheduled meal times. Grab and Go meals will no longer be offered at this time.
We continue to maintain our COVID Mitigation policies, such as frequent sanitizing of surfaces throughout the day, increased handwashing/sanitizing breaks during the day, temperature screenings upon arrival, mid-day, and departure, etc.
Past Parent Notices regarding School Reopening:
Update as of 8/11/2020:  We are super excited to be moving forward with the 2020-2021 school year and get the kids back on campus. As you know, the school year began July 20th with remote learning for all students. Remote learning will continue until August 21st. The week of August 24th we will be transitioning into our Hybrid model and will continue with this until it is safe to bring all students back to campus full time. Families who wish to continue in a remote learning model may do so.
Students will be divided into "A" and "B" groups.
"A" group will have on-campus classes on Mondays & Thursdays, with at-home distance learning on Tuesdays, Wednesdays, and Fridays.
"B" group will have on-campus classes on Tuesdays & Fridays, with at-home distance learning on Mondays, Wednesdays, and Thursdays.
Someone from the school will be contacting each family to see which option is best for your family and to let you know which group your student is in.
Please read the Parent Letter for return week of August 24th      Parent letter return on week of August 24th (Spanish) for more information.

Update as of 8/7/2020- In response to Governor Ducey's executive order issued June 29th, Concordia Charter School started the school year on July 20th as planned through remote learning for all students. Remote learning will continue until it is safe to provide in-person instruction. On August 6th the Arizona Department of Health Services released Safely Returning to In-Person Instruction Benchmarks. We will be monitoring these benchmarks closely. We will update you weekly on the AHDS Benchmarks and let families know as soon as possible when it is safe for students to return for in-person instruction.While we wait for in-person instruction to resume we will continue with distance learning. Someone will personally contact each family to see what your family's needs are. We will be providing in-person services to those with IEPs and those students with ELL needs. We will also be providing a place for students without the ability to access the online platform.  At this time the school calendar will remain unchanged for the 2020-21 School Year. Parents should check emails regularly for more information. 
Follow all www.CDC.gov and local public health guidelines, such as staying home as much as possible, wearing a mask when in public, and washing hands often.
We will continue to provide updates as they become available. Stay well, be kind, and hang in there. We miss seeing all of our students and look forward to gathering again when we can.  With love,Ms. Margaret and the staff of Concordia Charter School
Concordia Charter School is in close contact with state and county health officials regarding Coronavirus Disease 2019 (COVID-19).

 We strongly encourage Concordia families and staff to bookmark Maricopa County's Coronavirus page for the most current and accurate information.
Governing Board Meetings Calendar
The official dates for the 2021 School Year Governing Board meetings are as follows:
July 7, 2020- Budget Approval Meeting (Meeting Notice 07 07 2020,  CCS Board Agenda - 07 07 20)
August 10, 2020- Special Board Meeting to Approve School Reopening/COVID Mitigation Plans @ 2:00PM by Zoom Meeting (Meeting ID: 744 3669 7938 Passcode: r6m8zZ) Special Meeting Notice 08 10 2020  CCS Board Agenda - 08 10 20
September 17, 2020- Regular Board Meeting @ 1:00 PM by Zoom Meeting  (Meeting Notice 09 17 2020, Board Meeting Agenda 09 17 2020) Meeting ID: 723 5621 4690, Passcode: 8aCxN9)https://us04web.zoom.us/j/72356214690?pwd=cjRZNCtYZUdkeEZTeDFpM2ZEZlhGQT09
December 18, 2020 @ 11:00AM- Regular Board Meeting
April 22, 2021- Regular Board Meeting & Annual Meeting
June 24, 2021- Proposed Budget Hearing SY22
July 8, 2021 @ 10:00AM- Budget Approval Meeting
Previous meetings
All meetings will be held at 142 N. Date Street, Mesa 85201, in the school Library, beginning at 2:30 p.m. unless otherwise noted.
All agendas and minutes are posted at least twenty-four hours in advance of meeting on the school's Public Notices board next to the school office, and are kept on file in the school office.  The public may also obtain a copy of the agenda by contacting the school office at 480-461-0555 or apayan@concordiacharter.org.
Accommodations are available at all board meetings for all hearing or visual impaired individuals.  Contact Alicia Payan at 480-461-0555 or apayan@concordiacharter.org for more information.
Below are links to important public notices & press releases. Visiting this page and checking the links provided is a great way to stay informed about your rights and responsibilities.
Concordia Charter School, Inc. does not discriminate on the basis of race, color, national origin, sex, age or handicap in its programs, activities, admission or employment practices.  This institution is an equal opportunities provider.
Concordia Charter School, Inc. is funded in part by a grant from the U.S. Department of Education Office of Innovation and Improvement, and is recognized as a 501(c)(3) nonprofit corporation.