School Supplies Needed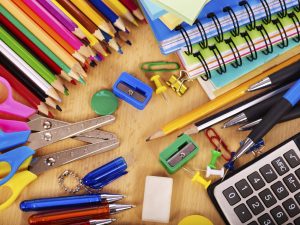 Below is a list of the school supplies used by our students and teachers throughout the year.  You can help us provide the children and teachers with everything they need!
Pencils - No. 2
Pencil Cases - plastic boxes or cloth pouches
Eraser / Eraser Tips
Spiral Notebooks
White Lined Filler Paper
Crayons
Rulers
Colored Markers
Colored Pencils
Glue Sticks
Children's Scissors
Binders - 1"- 2"
White Copy Paper
Dry Erase Board Markers
Two Pocket Folders
Construction Paper
Card Stock Paper - white or any color
Sheet Protectors
Gift cards to Office Supply stores, Wal-mart or Target are always welcome.
We appreciate your help in collecting these school supplies for the children and teachers.
If you are interested in sponsoring a School Supply Drive or have questions, please contact us at outreach@concordiacharter.org or (480) 461-0555.