Calendars/Menu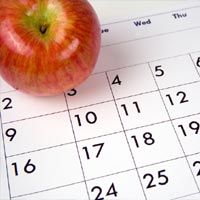 The school calendar for the school year 2019-2020 is based on trimesters. There will be 3 progress reports and 3 report cards mailed out to the parents throughout the school year. There are 180 days of school and some of those are early release days. Please look for those and plan accordingly.
Concordia Charter School - Mesa
...is a Free, Public, K-6 Charter School.
Upcoming Events:
Friday 7/19 Open House, 2-4pm, Be sure to attend to receive important information, meet your teachers, sample some delicious food, and more!
Monday 7/22 First Day of School!!  Join us at 7:45am for breakfast and our traditional Ringing of the School Bell!
School Hours:
Full-day Kindergarten - 6th Grade:
Monday           8:15 a.m. - 3:30 p.m.

Tuesday          8:15 a.m. - 3:30 p.m.

Wednesday     8:15 a.m. - 12:30 p.m. *early release day

Thursday        8:15 a.m. - 3:30 p.m.

Friday             8:15 a.m. - 3:30 p.m.
School Breakfast is served from 7:45 - 8:10 a.m. daily.  Students are asked to attend our morning assembly in the Cafeteria at 8:15 every morning
July menu coming soon!