Calendars/Menu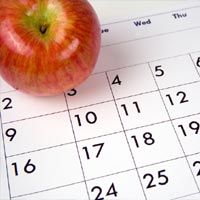 The school calendar for the school year 2019-2020 is based on trimesters. There will be 3 progress reports and 3 report cards mailed out to the parents throughout the school year. There are 180 days of school and some of those are early release days. Please look for those and plan accordingly.
Concordia Charter School - Mesa
...is a Free, Public, K-6 Charter School.
2020-21 Calendar will be posted soon. See below for important dates.
Upcoming Events:
FREE Curbside Meals will be distributed on THURSDAYS ONLY in July, between 9:30-11:00 AM. Simply drive up to the front of the school and pick up your child's meal kit with 7 days of breakfast and lunch to enjoy at home.  menu flyer July 2
Update as of 7/2/2020- Due to Gov. Ducey's 6/29/20 Executive Order, ON-CAMPUS learning has been delayed to at least August 17, 2020. Concordia students WILL begin their school year on Monday, July 20 through DISTANCE LEARNING (parents must choose ONLINE or PAPER packets to begin on Monday 7/20). At this time the school calendar will remain unchanged for the 2020-21 School Year. Parents should check emails regularly for more information.
JULY 20, 2020- First Day of School for SY2021 
Open House- stay tuned for updates
October 5-16, 2020- Fall Break
December 21, 2020-January 1, 2021- Winter Break
March 1-12, 2021- Spring Break
May 18, 2021- 6th Grade Promotion
May 21, 2021- Last Day of School for SY2021
School Hours:
Full-day Kindergarten - 6th Grade:
Monday           8:15 a.m. - 3:30 p.m.

Tuesday          8:15 a.m. - 3:30 p.m.

Wednesday     8:15 a.m. - 12:30 p.m. *early release day

Thursday        8:15 a.m. - 3:30 p.m.

Friday             8:15 a.m. - 3:30 p.m.
School Breakfast is served from 7:45 - 8:10 a.m. daily.  Students are asked to attend our morning assembly in the Cafeteria at 8:15 every morning 
(COVID-19 Reopening Plans have made adjustments to arrival/dismissal, breakfast, assembly, and lunch schedules. Please watch for updated information to come)