Calendars/Menu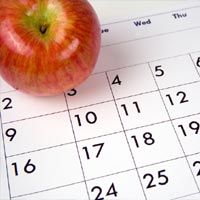 The school calendar for the school year 2018-19 is based on trimesters. There will be 3 progress reports and 3 report cards mailed out to the parents throughout the school year. There are 180 days of school and some of those are early release days. Please look for those and plan accordingly.
Concordia Charter School - Mesa
...is a Free, Public, K-6 Charter School.
Upcoming Events:
Monday, Jan. 7- Classes resume, Breakfast @ 7:45am
Friday, Jan. 11- 100th Day of School!
Monday, Jan. 21- No school for Martin Luther King Jr. Day
Thursday, Jan. 24- Family/Community Night- Farmraiser Food Show & Farmer's Market, 5-6pm
School Hours:
Full-day Kindergarten - 6th Grade:
Monday           8:15 a.m. - 3:30 p.m.

Tuesday          8:15 a.m. - 3:30 p.m.

Wednesday     8:15 a.m. - 12:30 p.m. *early release day

Thursday        8:15 a.m. - 3:30 p.m.

Friday             8:15 a.m. - 3:30 p.m.
School Breakfast is served from 7:45 - 8:10 a.m. daily.  Students are asked to attend our morning assembly in the Cafeteria at 8:15 every morning
Feburary 2019 Menu